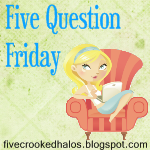 1. H
ave you ever forgotten your child in a store or at school?
No, I never have. My sister got locked inside the church building when she was about three. She wasn't left, but she was "lost". That event may have left its mark on me.
2.
Where did you go on your very first date? (Like...first first, not first with your spouse or current significant other!)
It was so insignificant that I barely remember it. We went to some kind of a church teen event.
3.
What's your "silly" fear?
(We're not talking water and heights.)
Of course I don't have any silly fears. I am afraid of getting lost while I'm driving somewhere new, and that my GPS will be invaded with aliens and intentionally take me far, far away from my destination, and I will never be heard from again.
4.
Confrontation: do you cause it, deal with is as it comes, or run far far away?
I've never met a confrontation that I felt the need to deal with. I will run far, far away and eventually land in "Forgetful Land".
5.
Wood floors or carpet?
Right now we have carpet. Light carpet that is now dirty carpet. Why do they even make light colored carpet. It's a nightmare waiting to happen.